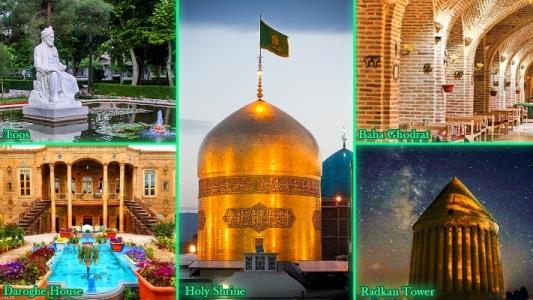 Amazing Places to See
Because of Mashhad's ancient history and geographic location, our city offers once in a lifetime opportunities to experiences. Explore the ancient city of Toos where Alexander the Great once captured and then burned to the ground or marvel in the amazing spirituality of the Holy Shrine of Imam Reza (PBUH).
Baba Ghodrat Caravansary is located on Sadr St. off of 17th Shahrivar St. It dated back to the reign of Fath Ali Shah (reign 1797–1834 CE) and used to serve as a caravansary for the pilgrims of Imam Reza (PBUH). Iranian restaurant.
Toos Historical-Cultural Complex is located 24 km to the northwest of Mashhad and includes many ancient and historical landmarks such as the remains of the Harooneyeh Building, Tabarān Jame Mosque, Ferdowsi Mausoleum, the tomb of Imam Ghazali, two villages called Toos and Islameyeh, and ruins of ramparts that once surrounded the city and a brick tower from ancient times.
It will only take one morning to visit all of these sites in the Toos Historical-Cultural Complex, especially since it is so close to Mashhad. You can leave at 9 AM and be back around 1 PM in time for lunch.
The Holy Shrine Complex of Imam Reza (PBUH)
This amazing architectural building is 12 centuries old and houses the holy burial chamber of Imām Rezā (pbuh), the eighth Imām of Shia Muslims, along with many awe-inspiring architectural wonders like courtyards, arcades, museums, the Gowharshad mosque and so forth. The awe-inspiring and marvelous historical works of architecture and art found in this Complex are a testament to the great Islamic art of ancient and contemporary Iran.
In addition, the spiritual atmosphere of the Holy Shrine cannot be described in words, but can only be experienced first hand